Contact: Drahomír Hnyk
Computational chemistry connected with the molecular structure determinations of boranes, heteroboranes and metallaboranes are carried out at a couple of levels. The most important project is based on the computations of different quantum chemical variables, examination of molecular geometries and shielding tensors being the most frequently used approaches. The latter provides a basic ground for evaluations of 11B NMR chemical shifts. The point is that 11B NMR spectroscopy is the method of choice when searching architectures of this class of materials. This structural tool comes from comparison of computed and experimentally determined 11B NMR chemical shifts. This confrontation is a measure of the correctness of the proposed architecture and molecular geometry of a boron cluster as a consequence.
In a very close liaison with the group of Professor Pavel Hobza of the Institute of Organic Chemistry and Biochemistry, Czech Academy of Sciences the noncovalent interactions appeared in the crystals of heteroboranes are examined. The hydrogen bonds, dihydrogen bonds (appeared also in the interactions of heteroboranes with biomolecules – Institute of Chemical Physics of CSIC in Madrid also contributes to this area) and the interactions based on the existence of the so-called σ-holes on various heteroatoms are the driving forces for the corresponding crystal packings, halogen, chalcogen and pnictogen bondings originating from this concept.
Further experimental methods aimed at molecular structure determinations of these clustersare based on electron scattering on vapours of various materials and a very productive cooperation with the universities of Bielefeld and York guarantee such a joint project since the adequate electron diffraction machines are available there. The obtained electron diffraction patterns are partly analyzed at Řež. The pictures below are examples of the recent gas-phase molecular structures. Obviously, a direct comparison of the gas-phase internal coordinates and those determined computationally serves as a good ground for testing reliabilities of the computational protocols employed.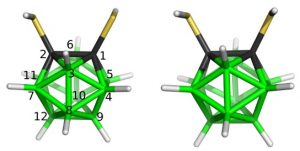 Very recently, interactions of macropolyhedral clusters with light have also been computed. The existence of neutral macropolyhedral clusters are also proposed for the purpose of improving the doping of semiconductors.

The most important papers:
Hnyk, D., Wann, D., Holub, J., Samdal, S. and Rankin, D.W.H.: WHY IS THE ANTIPODAL EFFECT IN CLOSO-1-SB9H9 SO LARGE? A POSSIBLE EXPLANATION BASED ON THE GEOMETRY FROM THE CONCERTED USE OF GAS ELECTRON DIFFRACTION AND COMPUTATIONAL METHODS, Dalton Trans., 2011, 40, 5734-5737.
Wann, D.A., Lane, P.D., Robertson, H.E., Baše, T. and Hnyk, D.: THE GASEOUS STRUCTURE OF CLOSO-9,12-(SH)2-1,2-C2B10H10, A MODIFIER OF GOLD SURFACES, AS DETERMINED USING ELECTRON DIFFRACTION AND COMPUTATIONAL METHODS, Dalton Trans., 2013, 42, 12015-12019.
Fanfrlík, J., Přáda, A., Padělková, Z., Pecina, A., Macháček, J., Lepšík, M., Holub, J., Růžička, A., Hnyk, D. and Hobza, P.: THE DOMINANT ROLE OF CHALCOGEN BONDING IN THE CRYSTAL PACKING OF 2D/3D AROMATICS, Angew. Chem. Int. Ed., 2014, 53, 10139 – 10142.
Růzičková, Z.; Holub, J.; Melichar, P.; Moncol, J.; Wann, D. A.; Fanfrlík, J.; Růzička, A. and Hnyk, D.: THE π COMPLEX OF THE HYDRONIUM ION FROZEN ON THE PATWAY OF ELECTROPHILIC AROMATIC SUBSTITUTION, Eur. J. Org. Chem. 2016, 4473 – 4475.
Eyrilmez, S. M., Bernhardt, E., Dávalos, J. Z., Lepšík, M., Hobza, P., Assaf, K. I., Nau, W. M., Holub, J., Oliva, J. M., Fanfrlík, J. and Hnyk, D. : BINARY TWINNED-ICOSAHEDRAL [B21H18]¯ INTERACTS WITH CYCLODEXTRINS AS A PRECEDENT FOR ITS COMPLEXATION WITH OTHER ORGANIC MOTIFS, Phys. Chem. Chem. Phys., 2017, 19, 11748-11752.
Fanfrlík, J., Pecina, A., Řezáč, J., Sedlak, R., Hnyk, D., Lepšik, M. and Hobza, P.: B-H…π: A NONCLASSICAL HYDROGEN BOND OR DISPERSION CONTACT?, Phys. Chem. Chem. Phys., 2017, 19, 18194 – 18200.
Melichar, P., Hnyk, D. and Fanfrlík, J.: A SYSTEMATIC EXAMINATION OF CLASSICAL AND MULTI-CENTER BONDING IN HETEROBORANE CLUSTERS, Phys. Chem. Chem. Phys., 2018, 20, 4666-4675.
Baše, T.; Holub, J.; Fanfrlík, J.; Hnyk, D.; Lane, P. D.; Wann, D. A.; Vishnevskiy, V.; Tikhonov, D.; Reuter, Ch. and Mitzel, N. W.: ICOSAHEDRAL CARBABORANES WITH PERIPHERAL HYDROGEN-CHALCOGENIDE FUNCTIONS: THEIR STRUCTURES FROM GAS ELECTRON DIFFRACTION AND CHEMICAL SHIELDING IN SOLUTION, Chem. Eur. J., 2019, 25, 2313 – 2321.